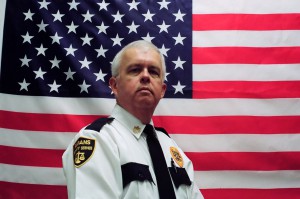 Major P. A. Turner is a 5th Generation Native Floridian, having grown up in Gainesville, Florida. In 1968, Mr. Turner embarked on a career in Law Enforcement as a Charter Member of Gainesville Police Explorer Post 917, continuing as a member until graduation from Gainesville High School. In 1974, Mr. Turner entered the Police Academy in Lake County Florida, graduating in the top three of the class. He did not attend his graduation ceremony as he was already on Duty as a Uniform Patrol Officer. For twenty years, Mr. Turner continued as a Police Officer and Deputy Sheriff, all in Florida. His credentials include: Uniform Patrol Division, Shift Supervisor (both Corporal & Sergeant), Traffic Homicide Investigator, Criminal Investigator, Narcotics & Organized Crime Investigator, Intelligence Officer, Internal Affairs Investigator, Personnel and Selection Officer, Command Officer, and Acting Chief of Police. Mr. Turner continued his association with the Boy Scouts of America, having been Post Advisor for Law Enforcement Explorer Posts with three different agencies.
After leaving law enforcement in 1994, Mr. Turner became a licensed Private Investigator in the State of Florida, owning his own agency beginning in Gainesville, Florida. For 17 years, Mr. Turner has conducted Criminal Defense Investigations, having participated in 46 Capital Homicide Defense matters, over 200 other Crimes Persons Defense issues, and over 100 Traffic Crash Reconstructions. He holds designations as a Court Certified Expert Witness in Criminal Investigation and Traffic Crash Reconstruction in both North Carolina and Florida. Mr. Turner has participated in the Trenton Duckett case in Lake County, and during that investigation has appeared on "Nancy Grace", "Geraldo at Large", "The Line-Up with Kimberly Guilfoyle", and "Inside Edition", as well as local television coverage during that investigation.
Internal Investigation
In July 2011, Mr. Turner became an integral part of Sloan's Security Service. He currently serves at the rank of Major and holds the title of Administrative Commander, accepting responsibility for all Internal Investigations, Personnel Professional Standards, and providing specialized training in Criminal Law and Procedure, Constitutional Rights, Traffic Safety Management and Investigation, in addition to Personal Protection and Officer Safety Instruction.
Specific Experience & Training
Florida CJSTC Basic Police Standards
Florida CJSTC Radar Operator/Speed Measurement Devices
Florida CJSTC Chemical Tests for Intoxication
Florida CJSTC Breathalyzer Maintenance
Florida CJSTC Forensic Photography
Florida CJSTC Instructor Techniques
Florida CJSTC Traffic Homicide Investigation
University of North Florida Traffic Homide Investigation
Florida CJSTC Advanced Traffic Crash Investigation
University of North Florida Advanced Traffic Crash Investigation
Florida CJSTC Traffic Crash Reconstruction University of North Florida Traffic Crash Reconstruction
Investigator Drug School Fort Lauderdale Police Department
Narcotics & Identification CJSTC Florida
Line Supervision CJSTC Florida
Florida Class "D" Security License
Florida Class "DI" Security Officer Instructor License
Florida Class "G" Statewide Firearm License
Florida Class "W" Concealed Weapon or Firearm License
Baton Certified
OC Spray Certified
Handcuffing Certified
For over 37 years, Mr Turner has provided professional services to the Citizens of the State of Florida in both Public and Private venues. His experience and credibility are without question.
In Investigative matters, he is a Court Certified Expert Witness in both Criminal Investigation and Traffic Crash Reconstruction in North Carolina and Florida. In addition to being an excellent Criminal Investigator and Internal Affairs Investigator, having extensive experience in Computer Voice Layer Analysis. Our Company recognizes the importance of that aspect, and subjects our potential employees to that degree of truthfulness accuracy.